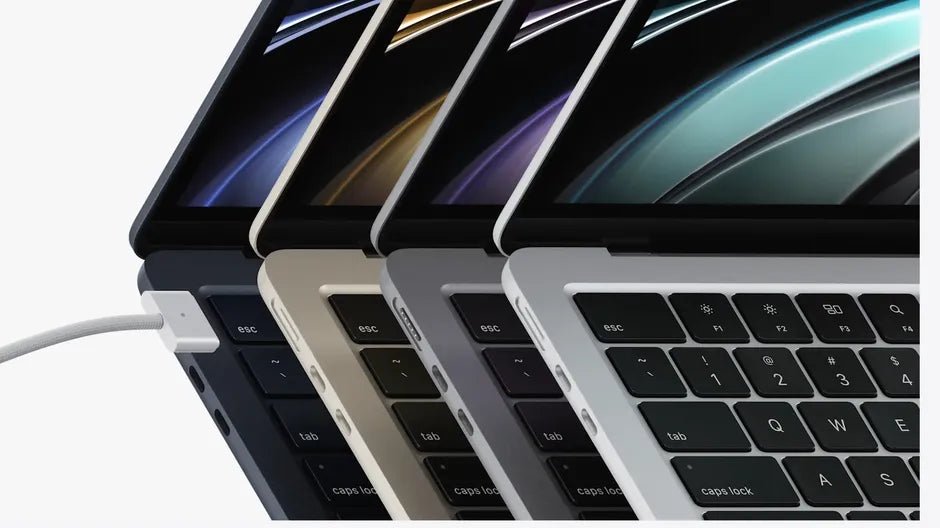 What did Apple announce at this year's WWDC 2022?
On Monday, June 6, 2022, live in Apple Park, Apple announced another number of innovations at WWDC 2022. In summary, the following points were announced:
The new IOS 16 is around the corner
In the Netherlands you will soon be able to use 'maps' in 3D
Apple CarPlay gets a major update
A new WatchOS (9) software is coming
Apple is coming soon with the brand new M2 chip for Mac
A new Macbook Air (including M2)
The New MacOS 13: Ventura
iPad OS 16
IOS 16
For years, Apple users have had to wait for a feature that has long been possible with other phone providers. Then we are referring to personalizing the iPhone's lock screen. With one of the biggest updates ever, you now get the option to completely customize your screen, including using widgets.
For the iPhone, they have now made possible the same thing that has been possible for a while with the Apple Watch. You can now create different lock screens and switch on the spot.
In short, the update will get a few more noteworthy improvements:
Notifications
For example, from IOS 16 you can keep track of 'Live activities' via the lock screen of, for example, a football match, but also the status of your taxi.
Messages
Within the Messages App you now get the option to edit messages after they have been sent. You can now delete them completely. Previously it was only possible via FaceTime, but now you can also use 'SharePlay' within the messaging app.
Dictate
The dictation function will be updated with the new software. While using the dictation function, you will now be able to easily switch with your voice to assist the keyboard. You will now also be able to describe punctuation and emojis with your voice.
Maps in 3D
It was previously possible in the UK and the United States, but now also within the Netherlands you will be able to admire certain places in 3D via the maps application. You will also be able to add up to 15 stops in the future when you want to go from A to B. Easy for when you want to see several sights in one route in new cities.
Home
From iOS 16, Apple will work with a new standard for Smart Homes called 'Matter'. This is so secure that even Apple cannot view your data.
Fitness
With iOS 16, Apple is introducing the Fitness app to all users. So not just for consumers with an Apple Watch. This way it is possible to measure your steps and measure certain workouts, without a smartwatch.
WWDC 2022: The New Generation of CarPlay
At WWDC 2022, Apple also announced the next generation of CarPlay. This time it is possible to take widget from your iPhone. You can also adjust settings for your car (such as Climate Control) without having to leave the system.
The biggest update is the ability to change your car's dashboard as well. Apple communicates with the car with CarPlay and is able to display all important information in this way. It can also be adjusted directly to your own taste.
WatchOS 9
Apple also immediately announced watchOS 9 during WWDC 2022. The operating system for the Apple Watch will receive a minor upgrade this fall. It is possible to use four different, new, dials.
The software supports the new Siri design and uses bar notifications, just like your iPhone currently does.
Thanks to this new operating system, the Apple Watch is also able to better measure your movements while running. This way you can get tailor-made advice and improve your own performance more easily. The information is applied directly to several new workout views. During the workout you will also be coached to improve your posture or pace, for example.
Sleep and health
With 'Sleep Stages' it is possible to measure your sleep even better. The Apple Watch and the Health app don't just show how long you've slept. You can also see how deeply you slept at certain times. Something that affects your health, because this way you can improve your sleep.
If you have an unhealthy heart rhythm, the Apple Watch is better able to warn you. The smartwatch keeps an eye on how long you have had an irregular heart rhythm, for example, and gives you a notification with what this means and what you should do if necessary.
It is also possible to track your medication via watchOS 9. You enter all medicines, adjust a schedule and receive reminders as soon as necessary.
Apple introduces the brand new MacBook Air
The expectation was already there, but the confirmation is here. Apple announces a new generation of MacBook Air. The laptop features the same design as the Pro models and is available in four different color options. Not only super easy to carry, but also very stylish.
As with the current models, this also means the return of Magsafe. The M2 MacBook Air already features an improved battery life (18 hours of video playback), but it also charges faster. It is possible to charge it up to 50% within half an hour with a 67W adapter.
The improved battery life is of course the result of the M2 chip, which also has much more to offer in terms of performance. Thanks to the chip, the laptop is even five times faster than the Macbook Air without Apple Silicon.
The MacBook Air features a 13.6-inch Liquid Retina display. With a brightness of 500 nits, it is 25% brighter than the current model. The screen also features a notch with an improved camera.
The new MacBook Air will be available next month for $1199. In addition to that model, Apple is also introducing the M2 chip for the 13-inch MacBook Pro.
WWDC 2022: Apple Introduces macOS 13 Ventura
Ventura, that is the name of the new operating system for the Mac. It includes a functionality called Stage Manager. This way it is possible to focus on the app you are using, without any distractions. It simply lists all open screens on the left side of the screen. Do you use multiple screens for a particular app? Then it will be clearly visible.
In addition to Stage Manager, Apple is also introducing the new Spotlight. Not only can you set timers, but you can also list apps from the search bar, for example. You get a clear overview of all the information you can find in a search.
Mail and Safari
macOS 13 Ventura also offers a number of new features within Mail. For example, it is possible to schedule messages so that they are sent at the right time. It has also become easier to search within the application. With every letter you type you will see a number of suggestions.
Within Safari, thanks to macOS 13, it is possible to share tab groups with friends. Handy if, for example, you are planning a holiday together. In addition, the web is also becoming a more secure place. The browser is provided with Passkeys. By using your Apple ID password or Touch ID you get automatically generated passwords that won't leave your device. This makes them less sensitive to phishing, which makes using the web safer again.
Gaming and collaboration
To unlock the full potential of Apple Silicon, the company is introducing Metal 3 and Metal FX Upscaling. It is possible to render complex renders faster. The result is improved image quality while gaming. Thanks to the Fast resource loading API, the loading times of games are also reduced. To prove that, the new game Resident Evil: Village will be released on the Mac.
Handoff makes it possible to forward calls between different devices. From your iPhone to your Mac and from your Mac to your iPad. Very cool of course, but it gets better. Consumers can now use their iPhone as a webcam for their MacBook. Not only useful for extra light (via the flash), but also for top view videos.
WWDC 2022: Apple Introduces iPadOS 16
In addition to iOS 16, Apple has of course also announced iPadOS 16. First things first: the Weather app finally appears on the iPad! The tablet also gains access to Collaboration via the software. This functionality makes it possible to work on a particular document with different people. Simply explained: you used to always share a copy of a document and now you will give everyone direct access to get started with the original.
In short: Apple has again announced a whole laundry list of improvements and new generations of devices. Now we are of course curious what this will look like in practice.
Are you looking for refurbished Apple devices and new Apple accessories? Then take a look at our shop. Click here!